Roma people are part of a minority ethnic group that originated in India and migrated across Europe over 1000 years. EU institutions use 'Roma' as an umbrella term for people who self identify as belonging to Roma, Sinti, Ashkali, Manush and other groups with a nomadic tradition- including Irish Travellers.  Romani is the official language of Roma, with different variances of the language across regions.  Watch a short animated history of Roma by Open Society Foundations.
Europe
"Europe has a shameful history of discrimination and severe repression of the Roma. There are still widespread prejudices against them in country after country on our continent." – Thomas Hammarberg, Former Commissioner for Human Rights of Council of Europe
Roma have fled violence and persecution for centuries, subject to anti-gypsy laws and forcibly sterilised in Eastern Europe. The Roma were one of the groups targeted during the Holocaust, with estimates that over 200,000 Roma died in concentration and extermination camps.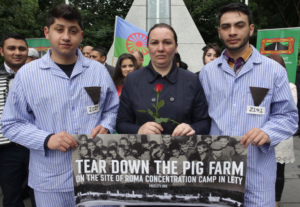 Ireland
It is estimated that there are up to 5000 Roma currently living in Ireland, with most coming from Romania and Slovakia. Roma are residents and citizens of countries all across Europe, including Hungary, Bulgaria, France, the Czech Republic, Germany and Spain. There is very little accurate and reliable data available about Roma in Ireland because data is collected based on nationality and not ethnicity.
In Ireland today, many Roma experience disadvantages in accessing education, health services, good housing and jobs.  Roma have been portrayed in a negative light in Irish and international media and are often associated with criminal activities and 'organised begging'. Stereotypes about Roma and negative media reporting provided a context in which two Roma children were removed from their families in 2013, for not looking like their parents.  The subsequent report by the Ombudsman for Children identified the occurrence of ethnic profiling.