Traveller Men's Health Day took place today in the Phoenix Park as part of Traveller Pride Week and to mark Men's Health Week.
Thankfully the rain held off for most of the day so Traveller men from different organisations could concentrate on blood pressure checks, diabetes checks and getting
the information on keeping a
healthy heart, positive mental health, combating cancer and more.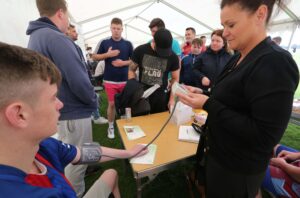 To show the importance of exercise a soccer tournament took place with accompanying egg and spoon, three legged races and throwing the horse shoe.
There was great competition in the soccer and in the end Dunsink Rovers were delighted with their win.
We want to thank everyone for taking part and especially the organisations who made it all more than just a fun day out – Asthma Society of Ireland, Irish Heart Foundation, Irish Cancer Society, Jigsaw, Pieta House, Temple Street Children's Hospital, Traveller Counselling Service, Coolock Village Pharmacy, Dublin City Council, the FAI, SARI and co-organisers the Eastern Region Traveller Health Network (ERTHN).