Pavee Point's Roma Programme was set up to promote the human rights and inclusion of Roma in Ireland and work to improve access and outcomes for Roma in the areas of healthcare, education, housing, and employment, using a community development approach.
Our Goals:
Progression of Roma rights and health outcomes through the development of evidence based policy and interventions.

Promotion and Celebration of Roma culture and identity, based on anti racism and intercultural approaches.

Emergence of strong Roma leaders, working from community development and human rights principles.
Health
Pavee Point established a Roma health project in April 2022. The health development workers work in partnership with Roma to address health inequalities, and the social determinants of health through the promotion and prioritisation of Roma in local, regional and national health policy and service responses.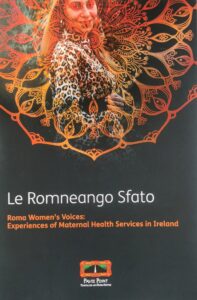 Contact health workers adriana.quinn@pavee.ie or bianca@tanase@pavee.ie
Employment
Under the National Traveller & Roma Inclusion Strategy specific actions are being undertaken to improve Roma access to and outcomes in employment.
In 2020 Pavee Point employed Roma Peer Researchers to research some of the main difficulties facing Roma in employment in Ireland.  The report was produced in February 2022 and makes a series of recommendations in relation to Roma inclusion. Pavee Point continues to raise awareness on these issues, provide policy analysis and work with policymakers and service providers.
Contact:  employment workers rudolf.simonic@pavee.ie and vanessa.paszkowska@pavee.ie
Inclusion 
Pavee Point represents Roma issues at a variety of levels including at national committees such as the National Traveller Roma Inclusion Strategy, with service providers and with policy makers and decision makers.
The Programme carries out awareness raising and information sessions and works with local Roma groups to progess inclusion and is part of the National Roma Network.
Contact Community Development Workers gabif.muntean@pavee.ie and tica.muntean@pavee.ie
Celebrating Roma Culture & History
Each year we celebrate International Roma Day on 8th of April.  This gives us a chance to remind ourselves of the Roma contribution to culture and diversity.  Part of our work is also to commemorate  Roma history and on the 2nd of August we commemorate Roma Genocide Memorial Day.
In May 2022 we launched our film Romani Kultura which celebrates Roma music and and features to two young Roma activists.  See our video at this link – https://youtu.be/4Xbk1mS6wDU
For any further information contact our Roma Programme Co Ordinator – jenny.liston@pavee.ie
For other resources on Roma go to our Library