Reports and Submissions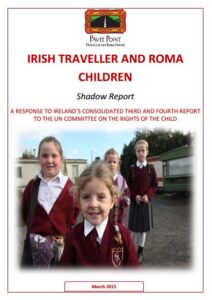 Update Shadow Report on Traveller and Roma Children – UN Committee on the Rights of the Child
Pavee Point, December 2015
Shadow Report on Traveller and Roma Children – UN Committee on the Rights of the Child
Pavee Point, March 2015 
ROM ACT Report on Informal Learning
Pavee Point, 2014
Submission on HEA Consultation Paper: Towards the development of a new national plan for equity of access to higher education
Pavee Point, 2014
Submission to the Department of Education on their Statement of Strategy
Pavee Point, 2014 
Pavee Point, 2014
Pavee Point Submission to the Joint Oireachtas Committee on Education and Social Protection on the Draft General Scheme of an Education (Admissions to School) Bill 2013
Pavee Point, 2013
The TEA
CH Report. Traveller Education & Adults: Crisis, Challenge and Change
Hourigan, N & Campbell, M (2010) The TEACH Report Traveller Education & Adults: Crisis Challenge and Change. Dublin: National Association of Travellers' Centres
The Development of Appropriate Mechanisms to Monitor Educational Access, Participation and Outcome by Gender for Travellers  – the role of equality data mechanisms focusing on ethnic and cultural identity 
Pavee Point, 2007 
Report and Recommendations for a Traveller Education Strategy
Government Publications, ISBN: 0755717104
Report: Roma Educational Needs in Ireland Context and Challenges
Louise Lesovitch. Published by City of Dublin VEC, 2005
Éist – Respecting Diversity in Early Childhood Care, Education and Training
Pavee Point Publications, 2001 
Click here for pdf.
See www.edenn.org for further information on diversity and equality in Early Childhood Education.
 Respect – education without prejudice. A challenge for early years educators in Ireland 
Pavee Point Publications, 2001
Resources
Travellers Nomads of Ireland, a resource book for senior classes in Primary Schools
Pavee Point Publications, 1997
The Pavee Pack: A handbook for teachers to use in conjunction with CSPE
Pavee Point Publications
Traveller Women through the Generations (Poster) 
Pavee Point Publications
Set of Four Eist Jigsaws
This set of four jigsaws represent the lifestyle and culture of Travellers and are for use in the Pre-School and Primary sectors. The photographs on the wooden jigsaws are by renowned photojournalist Derek Speirs and depict aspects of Traveller culture and identity.
Available only from Lisheen Toys Ltd. Ballyheigue, Co. Kerry,
Ph & Fax: 066 7133436
Education E-Bulletins
Education E-Bulletin, February 2015
Pavee Point, 2015
Education E-Bulletin November 2014
Pavee Point, 2014 
DVD for Traveller Parents on Primary School
Pavee Point produced a DVD for Traveller parents on ways to support their children in primary school. Pavee Parents; Primary Concerns is an educational tool which stresses the importance of parental involvement and how this involvement enhances a child's education. It also outlines the supports and organisations that are available for Parents.
"Many Traveller parents feel embarrassed visiting schools because of poor literacy. They may not be able to understand the words that are used or read the letters that are sent form the school." – Kathleen McDonnell, Traveller parent.
If you would like to receive a copy of this DVD please contact Pavee Point at info@pavee.ie