Over €5.5 million (48%), allocated to local authorities to spend on Traveller specific accommodation in 2018 was sent back unspent, latest figures show.
This continues a trend that has seen an allocated €60.5 million unspent on Traveller specific accommodation since 2000.
"These figures reconfirm, if such was needed, that the present system is incapable of delivering the badly needed accommodation that Travellers require," said Martin Collins Pavee Point Co Director.
"We need a centralised independent agency or commission that would have the necessary legislative mandate and resources to do what local authorities have failed to do for decades."
"This failure to provide accommodation is totally unacceptable when 15% of Travellers are homeless according to the Department of Housing Annual Census."
Some counties are to be commended for spending almost their full and significant allocations –  or sometimes over such as the Dublin local authorities plus Kerry and Waterford.  However, the majority of local authorities show an underspend.
"Galway City spent none of its allocation in 2018 which is a serious concern giving the Traveller accommodation crisis in the city.  Galway Country only spent 24.7% of its allocation," explained Mr. Collins.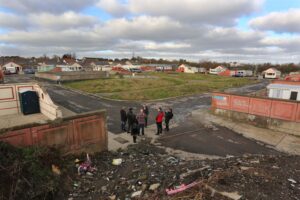 "Similarly, Cork City left 42 % of its allocation unspent while Cork County spent none of its allocation, the figures how. This is in the context of dire living conditions for Travellers in Cork."
Other counties where significant spending was planned but not carried out includes Carlow, Clare, Donegal, Kilkenny, Limerick, Monaghan, Roscommon, Sligo and Wicklow.
The 2018 figures, given in response to a parliamentary question from Deputy Fiona O'Loughlin, Fianna Fáil spokesperson on equality, give the breakdown for each local authority.
Pavee Point is awaiting the report of the Traveller Accommodation Expert Review Group, at the Department of Environment Community and Local Government, set up to review the 1998 Traveller Accommodation Act.
"We see this review as a not-to-be-missed opportunity to bring about real change in the dire living conditions of many Irish Travellers," added Martin Collins.
These figures come in the wake of a damning report his week by the European Commission Against Racism and Intolerance (ECRI) which urges the Irish Government to impose sanctions on local authorities that fail to spend money allocated to Traveller accommodation.
Photos by Derek Speirs.