Pavee Point Traveller & Roma Centre highlighted, at the launch today of Pavee Mothers breastfeeding videos and information booklet, that only 2% of Traveller mothers breastfeed compared to over half (56%) of the general population. Today's initiative, on the first day of National Breastfeeding Week, is to help revitalise breastfeeding in the Traveller community.
And in a policy document also released today, Pavee Point calls for targeted measures for Traveller women, who are named only once in both the National Maternity Strategy 2016-2026 and the Breastfeeding Action Plan 2016-2021, despite having some of the poorest maternal and infant health outcomes in Ireland.
In her opening remarks at the launch, Mrs. Sabina Higgins spoke about the necessity of putting in all the necessary services in place that would allow barriers to be overcome. And Mrs. Higgins spoke about the need for the tradition of breastfeeding – that was the norm for all Irish women Traveller and settled for much of the 1st year of the baby's life – to be re-established, thereby giving babies the very best healthy start in life.
Wonderful Tradition
"There is a wonderful tradition of breastfeeding within the Traveller community – much of it was facilitated by Traveller women wearing the Traveller shawl. The shawl meant Traveller mothers could nurture their babies and continue their work with the family.
"We need to get breastfeeding to be the norm in the Traveller community again.
"Traveller organisations can't do it alone – health providers and policymakers need to come together, and in doing so, must acknowledge the reality and address the extra barriers Traveller women face when it comes to preparing to breastfeed, starting breastfeeding and then continuing once home from the hospital."
Barriers to Breastfeeding
The Pavee Mothers breastfeeding policy document explains that Traveller women, like other women in Ireland face a number of barriers to breastfeeding, such as limited support from health providers and family members, but also contend with additional barriers including:
Overcrowded accommodation, lack of privacy and lack of basic facilities such as electricity and water
The impact of the Beutler Test in initiating breastfeeding (all Traveller children need to be tested for Classical Galactosaemia before they can be breastfed)
Lack of culturally appropriate and accessible information about breastfeeding
Lack of Traveller role models
Traveller women's experience
Sheila Reilly, Pavee Point Traveller Primary Health Care Worker features in one of four videos of Traveller women talking about their experiences of breastfeeding.
"I had 7 children and I breastfed them all," says Sheila, "til they came to about 10 months old.
"I saw my own mother and my grandmother breastfeeding and plenty more Traveller women as well breastfeeding their babies."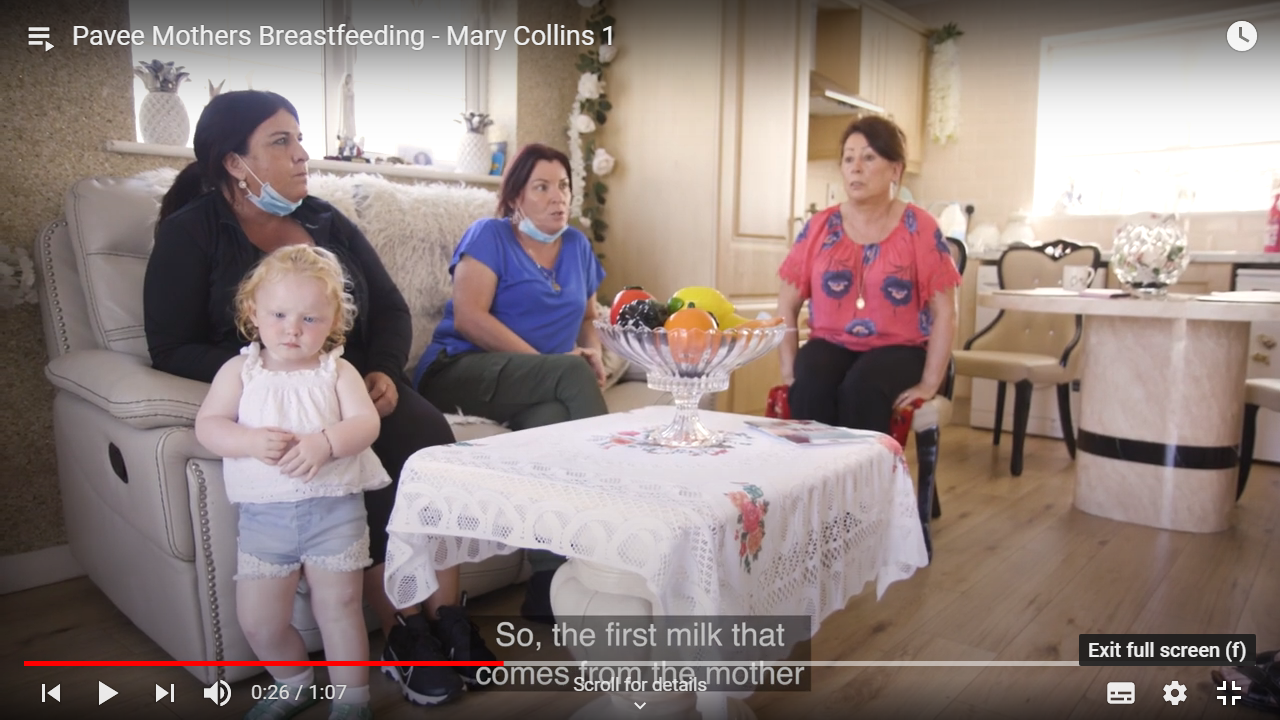 Mary Collins, Pavee Point Traveller Primary Health Care Worker explains ina video the importance and benefits of breastfeeding.
"I think the more you talk about it and encourage people they'll get the idea how good it is to breastfeed," says Mary.
HSE Partnership
Martina Queally, Chief Officer, Community Healthcare East and Chair of the Eastern Region Traveller Health Unit welcomed the launch of the resources.
"The work of the Eastern Region Traveller Health Unit through the Pavee Mothers initiative hasbeen vital for driving initiatives like this and ensuring Traveller women are on the agenda in terms of perinatal health," she said.
Ms. Queally looked forward to the soon to be published National Traveller Health Action Plan and said there is a need to mainstream initiatives like Pavee Mothers in partnership with the HSE.
As well as the videos, Pavee Mothers launched a booklet on breastfeeding, which provides culturally appropriate information on breastfeeding to Traveller women and a policy paper that identifies the key barriers to the uptake of breastfeeding in the Traveller Community and provides practical recommendations.