On December 14th in 1918, Irishwomen got the chance to cast their hard won right to vote for the first time. Two women, Countess Constance Markievicz In St Patrick's ward in Dublin, and Winifred Carney in East Belfast, would also stand for election.
Other political women, who had fought long & hard for the vote women voted for other political parties. Anna Haslam, who founded the Dublin Women's Suffrage Assoc in 1876, 
cast her 1st ever vote, aged 89 'surrounded by flowers & flags' for the unionist candidate in Rathmines, Dublin .
SEMINAR
To mark 100 years since Irish women first exercised their right to vote women gathered at the convention centre in Dublin on Friday 14th December to examine how more women from different backgrounds can participate in Irish politics. The seminar was entitled 'Politics Needs Women'.
The National Traveller Women's Forum worked with the National Women's Council of Ireland to host a pre-seminar meeting to look at issues for Traveller and Roma women in running for election. And Traveller women participated also in the main event as did women from other minorities.
TRAVELLER WOMEN IN ELECTIONS
This is a good time perhaps to recognise the first Traveller to stand for national election who was also a woman the late Nan Joyce, RIP. Rosaleen McDonagh also ran for national election in the Senate campaign in 2011. We are sure that more Traveller women will get involved in politics, given the proper supports.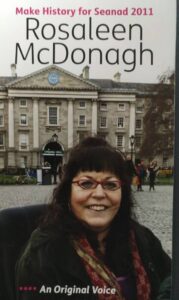 TRAVELLER CONFERENCE ON POLITICAL PARTICIPATION – FEB 2019
Minceirs Whiden, the all Traveller forum, are holding a Traveller Political Participation Conference on Wednesday 27th February to Thursday 28th of February 2019. More info at office.minceirswhiden@gmail.com