Traveller men are working to promote better health outcomes in their community.  But, they say, the Government needs to step up to the plate.  (All photos by Ena Djordjevic)
"We are doing what we can with very limited resources. The Health Minister Simon Harris TD has promised a Traveller Health Action Plan.  We participated in a consultation last year…but we are still waiting for the plan to be published," said Pavee Point's Men's Health Worker Michael Collins.
Traveller Men's Health Day
This week is Men's Health Week and around 100 Traveller men from the Eastern Region met up in the Phoenix Park for Traveller Men's Health Day.
The event, organised by the Eastern Region Traveller Health Network,  aims to encourage early detection and treatment of health issues by offering health checks for cholesterol and blood pressure.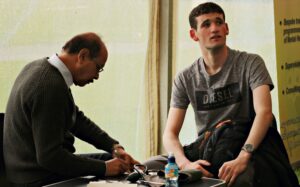 The event also supports Traveller men to engage in healthier lifestyle choices and activities and encourages leadership on health issues among Traveller men.
Health checks are available through the day while a soccer competition, a horseshoe throwing competition and a 3 km walk take place.
Traveller Men taking Positive Steps
"It's a great day to meet up with other Traveller men in the region and to be doing something positive for ourselves," said Johnny McDonnell of Balbriggan Travellers.
"Travellers have been left by the wayside, along with other marginalised groups, and this is having a devastating effect on our community," added Mr. McDonnell.
The winners of the John O'Connell Cup were Longford, who beat Pavee Celtic in the final.
Pat Stokes won player of the tournament.  Paul Stokes won the Golden Boot.
Thanks to Traveller Health Unit for their continued support.  Thanks also to the FAI ,  Dublin City Council and the Office of Public Works.  Thanks also to all the projects who were involved and made the day possible.
Low Health Status for Traveller Men
Traveller men face high levels of unemployment, marginalisation, poor living conditions and exclusion.
Health outcomes reflect this situation with a suicide rate among Traveller men that is 7 times the national average and a life expectancy that is 15 years less than that of the general population.  Source All Ireland Traveller Health Study 2010.